MMHA Product Resources
The MMHA catalog and pricelist are available in PDF format for easy viewing:

e-DAP® e-Development Action Planner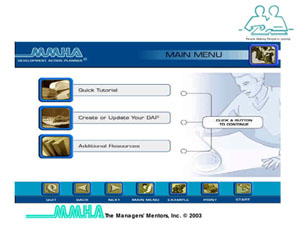 The e-Development Action Planner (e-DAP®) is a way to organize and track career goals and the actions to achieve them. It is a streamlined, comprehensive, and entirely confidential tool that can be used by individuals within an organization to maximize their career planning resources.
Mentoring Resource Kit® MRK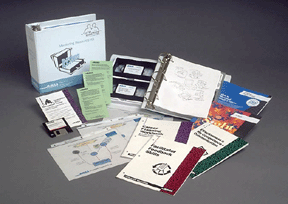 Comprehensive guidelines for each phase of designing, implementing, and evaluating a mentoring process.
Readiness Assessment
Marketing and Communication
Recruiting and Qualifying Participants
Preparing Participants
Evaluation of a Mentoring Process
View the Mentoring Resource Kit Flyer
Beyond the Myths and Magic of Mentoring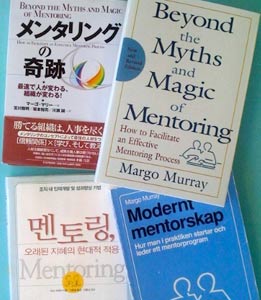 Beyond the Myths and Magic of Mentoring:
How to Facilitate an Effective Mentoring Process©
by Margo Murray, Jossey-Bass Publishers
A comprehensive 210-page guide to designing and implementing effective facilitated mentoring processes in organizations. Essential background reading on facilitated mentoring, Beyond the Myths and Magic is full of checklists, "to do's," and how to avoid pitfalls for mentors, protégés, and managers.
A MUST for anyone designing a process, looking for a mentor, or wanting to be an effective mentor. Now available in Swedish, Japanese, and Korean.
"Should be on every human resource practitioner's book shelf as a guide and resource for developing or fine tuning a facilitated mentoring program." – Linda Crosby DeBerry, Managing Director, Human Resource Development, Federal Express Corporation
"...deals extensively with the benefits and pitfalls of the mentoring concept, followed by a wealth of models, applications and concepts for insuring the practical success of a facilitated mentoring programme." – Business Executive, United Kingdom
Inscape Publishing Resources Authorized Distributor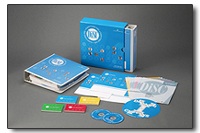 Inscape Publishing Resources Authorized Distributor
Margo Murray, Field Manager
Inscape profiles have been used by over 30 million people, worldwide, for more than thirty years. With an extensive research base, the profiles have high levels of validity and reliability. Equally important, they provide cost-effective utility. Assessing similarities and differences in work/behavioral styles enables respondents to build strong mentoring relationships and team effectiveness for increased productivity and quality of results.
Assess individual work behavior styles with this self-marking, self-scoring styles assessment tool.
- Understanding unique styles of yourself and others - Improved communication and productivity - Reduced interpersonal conflict - Ability to shift to more productive styles in different situations
Self-assessment workbook with interpretation information
Facilitators Kit with detailed administration and interpretation guidelines
Online version includes personalized narrative style assessment
Available on-line, and with additional language options. Sample reports available upon request.
To Improve Performance Success® (TIPS) Job Aids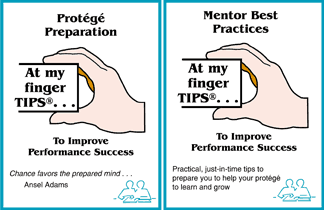 Mentor Best Practices At My FingerTIPS® and Protégé Preparation At My FingerTIPS® job aids. They are designed as a quick reference to enable mentors to prepare for effective feedback and coaching with protégés. The protégé set enables the protégé to prepare for every interaction with the mentor quickly and effectively.
Video Resources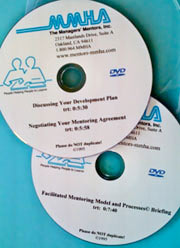 Visual Behavior Models
Program 1: Discussing Your Development Plan – Prepare and negotiate a development plan to focus on realistic and achievable objectives and create an action plan to keep your goals on track.
Program 2: Negotiating Your Mentoring Agreement – Create a common understanding about expectations between mentor and protégé to begin a solid mentoring relationship.
Format - VTR or DVD
MMHA Facilitated Mentoring Model and Processes© Briefing
See a concept model of how the facilitated mentoring process links the needs, goals, and opportunities of the organization with the growth and development of individual employees.
Format - VTR or DVD